Cannon PackagePro Bars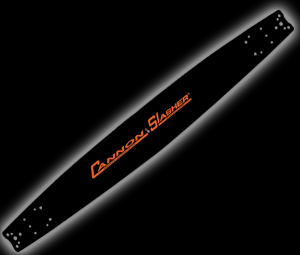 Product Highlights
These are the bars that are used on L-M and HOLTEC style bundle or package cutting machines; they are most often used by sawmills to trim off the ends of bundles of lumber to the same length, by fencing companies and by pallet manufacturing companies.
They are available in .404 pitch / .063 gauge, .404 pitch /.080 gauge and 3/4″ pitch / .122 gauge.
The .063 and .080 bars feature flame hardened rails, precision ground grooves and all of the other features that come along with a Cannon Bar.  We also do a lot of repairs on this type of bar, a Cannon PackagePro Bar can be rebuilt up to six times at a fraction of the cost of a new bar.
The .122 gauge bars are made from a very durable and wear resistant material, it is actually a Titanium alloy, that work hardens with use.  It is the same material we use for out 3/4 pitch harvester bars.