The Four Cannon Bars Your Tree Service Business Needs
Cannon Bar Works Ltd. manufactures a wide variety of saw chain guide bars for many different applications; from chainsaw carving, chainsaw milling, and tree care, to mechanical harvesters, package saws, and much more.
Cannon Bars are individually manufactured to the highest quality and can not only help decrease your downtime but can also help your tree service business save money.
Below are the four different types of Cannon Bars that your tree care business needs to improve efficiency:
Cannon SuperBar or Cannon DuraLite SuperBar for Groundwork
The Cannon SuperBar is designed for falling and bucking and is best used for groundwork. It is built to perform in the toughest falling conditions and will outlast most standard chainsaw bars 2-3 times.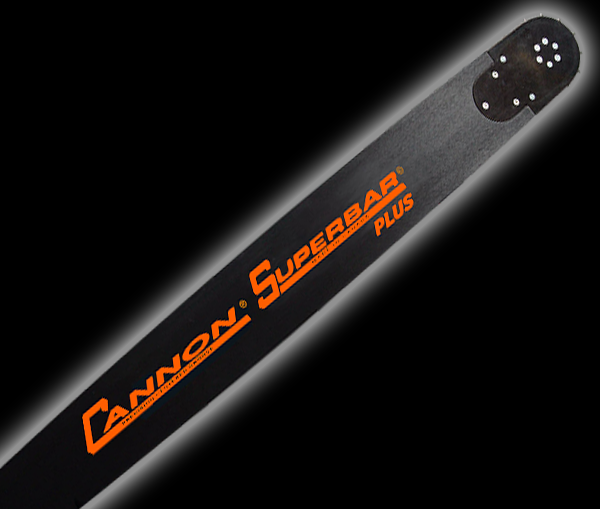 The Cannon SuperBar is available in lengths of 12" all the way up to 84". The most common lengths that tree service businesses run are 20", 24", 28", 30", 32", and 36". The SuperBar is available in .050", .058", and .063" gauge, and in .325", ⅜", and .404" pitch. With a universal replaceable sprocket tip and mount patterns to fit all makes and models of chainsaws, along with adaptor plates to fit the same chainsaw bar on multiple makes and models of chainsaws, this is a must-have.
Cannon DuraLite SuperBar
Another option for groundwork and climbing saws is the all-new Cannon DuraLite SuperBar, which combines the professional quality of the traditional Cannon SuperBar and the weight reduction that the falling industry demands. This bar is currently available in 24", 28", 32", and 36".
Because of the reduced weight, the DuraLite is great option for larger climbing saws as well.

Cannon SuperMini Bar for Climbing Saws
The Cannon SuperMini Bar is the perfect bar for most climbing saws and tree care applications. This bar is built similar to the Cannon SuperBar but has a narrower profile and smaller sprocket tip. The SuperMini Bar is available in lengths ranging from 12" up to 32", and in .050" or .058" gauge, and .325" or ⅜" low profile/picco pitch. This bar is available in the C1 "Universal" mount to fit most chainsaws under 60 CC, along with mount patterns specifically designed to fit Stihl and Husqvarna chainsaws. The SuperMini Bar has a replaceable sprocket tip with a diameter of 1 5/8".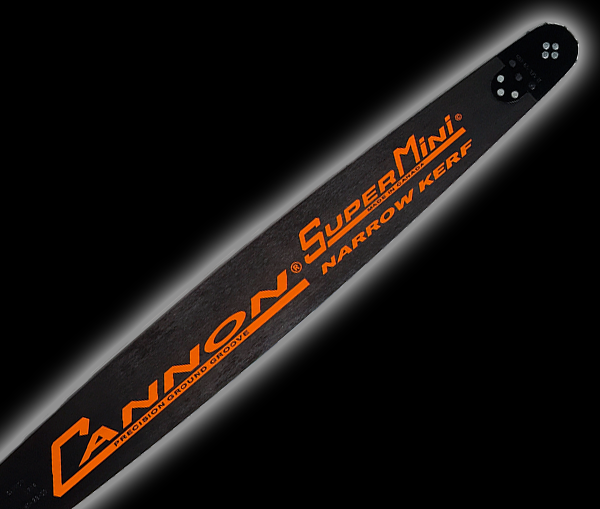 Cannon Carving Bars for Climbing Saws and Tight Crotches
Cannon Carving Bars are another popular option for climbing saws. Arborists love these bars because they are available in .043" gauge and will fit ¼" pitch chain, and because they are available in smaller diameter tip sizes than the SuperMini, which is great for fitting in tight tree crotches. The Carving Bars have stellite welded at the tip, making them hard-nosed bars, without a replaceable sprocket tip. The welded tip is beneficial for climbing saws as there are no sprocket teeth raising the chain away from the bar, which prevents small branches from getting caught between the chain and the groove.
Cannon Carving Bars are available in lengths from 12" up to 28" and in dime, quarter, toonie, and arbor size tips. In addition to .043" gauge, ¼" pitch, they are available in .050" and .058" gauge, and .325" and ⅜" pitch. Learn more about the tip sizes and bar specifications here: https://www.cannonbar.com/how-to-choose-a-cannon-carving-bar/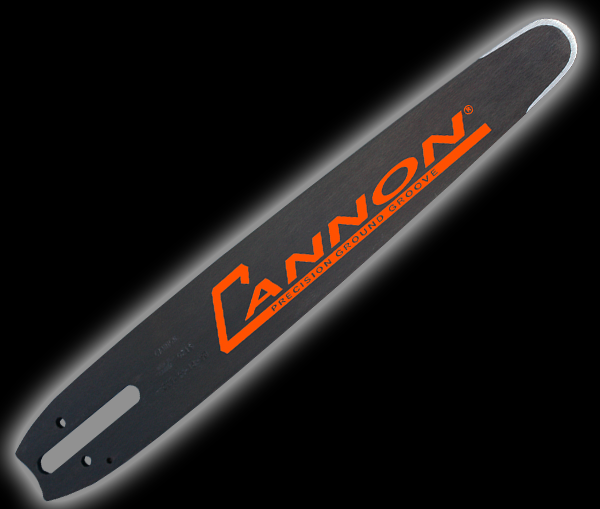 Cannon Pruner Bar
The Cannon Pruner Bar is a specialty bar designed specifically for pole saws. The unique angled design of this bar helps reduce bark tear, as it allows the pole saw operator to come up straight on the undercut, and down straight on the top cut.
The Pruner Bar is available in 10" and 12" and in mount patterns designed to fit various pole saws. It is available in .043", .050", and .058" gauge, and has a welded stellite tip that will accommodate ¼", .325", and ⅜" pitch chain.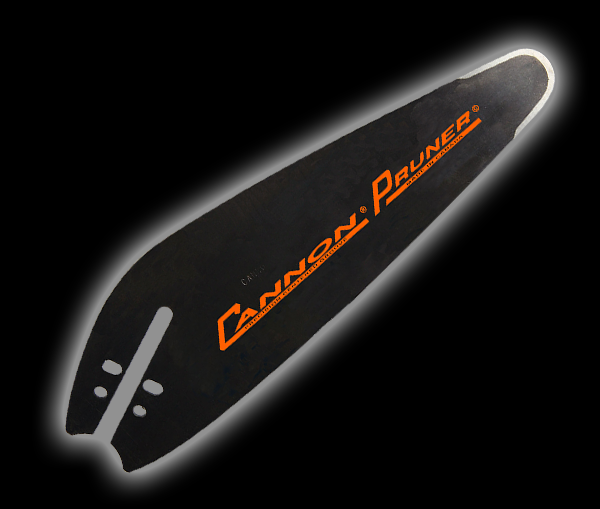 Now that you know which type of bars to get for your business, visit our Bar Finder to find the specific part numbers you need.
If you have any questions email us at info@cannonbar.com, or call 1-888-604-9990.